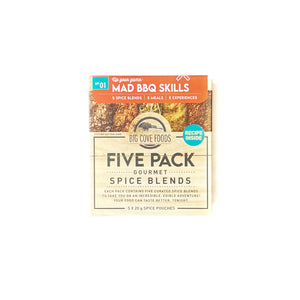 Mad BBQ Spice Skills Box by Big Cove Foods
Regular price $15.00 Sale
Do you have what it takes to be a BBQ master?
With this six pack, skill leaves the room. Mad BBQ Skills will take your barbecue endeavour to the next level! 
Whether you're cooking steaks, chicken, pork or vegetables - these flavourful spices will compliment and enhance your meal, every time.
Included in this pack is a curated recipe designed to put your taste buds to the test! 
Featured spices in each box include:
Ingredients:
herbs and spices, ajwan, cumin, sea salt, granulated garlic, sichuan pepper, black pepper, yellow sugar, red pepper flakes, mustard seeds 
All-Natural, no fillers! And No gluten added!

Contains: Mustard
Made in a facility that also processes: Sulphites, Sesame, Wheat
Ingredients:  
salt, porcini powder, brown sugar, herbs and spices, black pepper, ginger (sulphites), ancho, garlic, onion, pomegranate powder, chipotle, amchur, lemon peel, sichuan peppercorn
All-Natural, no fillers. No gluten added!
Made in a facility that also processes: mustard, sesame, sulphites, wheat
Ingredients:
spices, parsley, oregano, red pepper, garlic powder, sugar, sea salt, black pepper, espresso

All-Natural, no fillers, Vegan,  No gluten or MSG added!

May Contain: Mustard, Sulphites, Sesame, Wheat
Ingredients:
herbs and spices, annatto seeds, tarragon, yellow sugar, granulated garlic,  onion powder, black pepper, sea salt, orange peel, sichuan pepper, amchur

All-Natural, no fillers. No gluten added!
Made in a facility that also processes: mustard, sesame, sulphites, wheat
Ingredients:  
spices, oregano, chili powder, garlic, sea salt, black pepper, onion
All-Natural, no fillers. No gluten added!
Made in a facility that also processes: mustard, sesame, sulphites, wheat