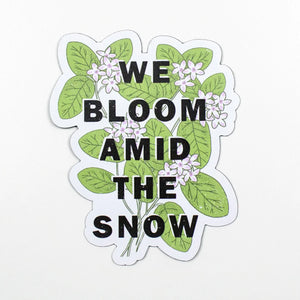 Nova Scotia Mayflower Sticker by Inkwell Originals
Throughout the 19th century, a common unofficial motto of Nova Scotia was "We bloom amid the snow." The phrase was a reference to the mayflower (Epigaea repens), the provincial floral emblem since 1901, but closely associated with the province long before. Mayflowers are among our earliest blooming wildflowers each spring. Their tiny fragrant pink and white blossoms and evergreen leaves peek out from the edges of the forest often before the snow has left the ground. The hardiness of this modest little flower was embraced as a symbol of the resilience of all Nova Scotians and an inspiration and reminder that beauty can thrive amid adversity.
Also available as a magnet!
Measures: ~2.75" x 3"
Designed and made in Canada
Inkwell Originals is the in-house studio of Inkwell, a modern handmade boutique & letterpress studio in downtown Halifax. Graphic designers Andrea Rahal and Daniel MacDonald create art prints, greeting cards, postcards, stationery and drink coasters inspired by the ocean, coastline, Nova Scotia and the people of Halifax. Antique letterpresses create these tactile products. The cast-iron presses are hand-powered and the paper is fed by hand. The end result is a charming and tactile impression in the paper.