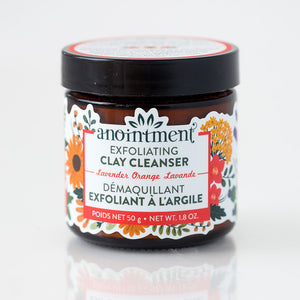 Exfoliating Clay Cleanser by Anointment Skincare
Regular price $17.99 Sale
Exfoliating Clay Cleanser handmade by Anointment Skincare.
Organic grains, sea plants, and botanticals become activated with water to deliver food for your skin while balancing.
For normal to oily skin.
Made with intentionally sourced ingredients including certified organic Maritime-grown oats, Nova Scotia kelp, organic flaxseeds, and beautifully fragrant ground organic lavender and orange peel. A gentle alternative to harsh soapy cleansers. Clay and organic botanicals gently cleanse without over drying and leave your skin feeling firm.
Directions for use:
Pour a generous amount of Exfoliating Clay Cleanser into the palm of your hand. Moisten it with warm tap water to form a paste. Apply to face, rubbing gently to exfoliate. Rinse with warm water. 
As a Facial Mask:
To use the Clay Cleanser as a mask, mix with honey (normal to oily skin), plain yogurt (sensitive to normal skin) or mashed avocado (dry skin) and apply to your face being careful not to get any in your eyes, nose and mouth. Leave for 15 minutes and rinse gently.
---
Un élément important dans votre routine de soin de peau quotidienne fait avec des ingredients choisis intentionnellement. Un démaquillant doux à l'avoine cultive aux provinces maritimes, de varech du Nouvelle-Ecosse, à l'argile et aux graines de lin biologiques. Contient des plantes botaniques qui nettoient sans dessécher.
Utilisation Quotidienne:
Faire une pate avec le nettoyant et de l'eau dans la paume de la main. Appliquer et exfolier doucement. Finir avec tonifiant à la rose.
Comme Masque Facial:
Mélanger avec du miel, de yogourt nature, de l'avocat ou de l'eau et appliquer au visage. Laisser agir pendant 10 a 15 minutes. Finir avec tonifiant à la rose and créme visage nourissante.