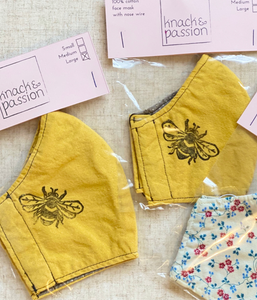 Bee Facial Masks by Knack & Passion
Regular price $16.00 $12.00 Sale
Knack and Passion facial masks are locally made by hand in Nova Scotia
100% cotton masks, including stitching and topstitching.
Each mask is made with:
- 2 layers of 100% cotton
- soft chenille nose wires
- low-tension comfort elastic
- breathable and comfortable
- attractive and well-made
Made of 2 layers of medium-weight cotton, these beautiful masks are both breathable and comfortable. The light, low-tension elastic ear straps reduce strain on ears while maintaining a secure fit.
Nose wires keep masks fitted tight to the face, reducing fogging for glasses-wearers and ensuring masks stay snug over the nose.
Ear strap channels allow you to replace elastic with ribbon, full-head elastics, jersey ties, or whatever suits your fancy.

Stamped masks (Bee styles) are decorated with hand-carved hand-stamped designs you won't find anywhere else.
Perfect for fall, these sweet masks will let your personality shine through.

SIZING

Masks come in three sizes: SMALL, MEDIUM, LARGE
SMALL : intended for school-age children up to 12 years old
MEDIUM: intended for most women, some teenagers
LARGE: intended for most men, larger faces
CARE
Masks should always be washed before wearing, and between every use.
Remove nose wires before washing to prevent rust.
Do not bleach: bleach will weaken elastic.
Wash in hot water and tumble dry or dry in the sun.
All masks are pre-washed and pre-shrunk.