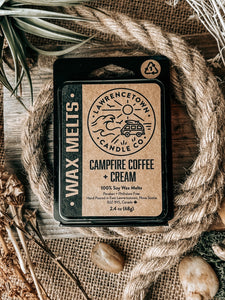 CAMPFIRE COFFEE + CREAM Wax Melts by Lawrencetown Candle Co.
SCENT NOTES: Dark Roasted Coffee + Cream
All of the Wax Melts are hand poured in East Lawrencetown, Nova Scotia.
Did you know that all of the Wax Melt and candle packaging is easily recycled in most facilities across Canada, the USA and around the globe? Most wax melt packaging is made from either PVC or Polystyrene plastic… while these forms of packaging are technically recyclable, very few recycling facilities process these plastics, ultimately diverting them to a landfill. The Wax Melt packaging is custom made from PET (the same kind of readily recyclable plastic found in water bottles) which is able to be recycled time and time again… Awesome!
The benefits to choosing Lawrencetown Candle Co products:
All of their packaging is 100% recyclable!
Unlike lesser quality candles that use Paraffin wax (a byproduct of the oil and gas industry), they only use 100% Natural Soy Wax. Soy wax is environmentally friendly, plant based and totally renewable. Soy Wax is a premium quality wax that not only burns cleaner than Paraffin Wax, it is also longer lasting.
You should feel good about the products that you choose bring into your home. Unlike offshore imports and lower quality products that use inexpensive ingredients, their premium quality Candles and Wax Melts are Paraben and Phthalate free.